Can you buy narrow or outdoor stairlifts?
Even though it is a good idea to do as much research as you can before making an investment decision on any item as important as a new stairlift, it goes without saying that there is no 'one size fits all' solution to suit the needs of every person with mobility issues.
Each home in the UK is as unique as its owner, with narrow doorways, irregularly-shaped hallways and small rooms sometimes causing issues with getting bulky items of furniture in and out of the building. However, you will be pleased to learn that, whatever the layout of your house, there should be a straight or curved stairlift, outdoor and indoor stairlifts to fit it.
Below, you will find all you need to know about the availability of stair lifts for narrow staircases, as well as installing outdoor stairlifts for those who want to carry on enjoying their gardens, an outdoor stairlift is the perfect option for many.
---
Can you buy stairlifts for narrow stairs?
The short answer is 'yes'. Whilst stairlifts for narrow stairs are not specifically manufactured for this purpose, there are two options open to you which should ensure installation is possible:
Perch stairlifts
Perch stairlifts require less room than the equivalent standard models, as there is no large seat extending out in front of the stairlift track. Instead, the user is required to stand or 'perch' in an upright position, secured in place by a seatbelt and able to use a shortened seat for comfort. Swivel seats are also available.
This type of indoor model is also a great option for anyone who has trouble lowering and raising themselves to a seated position, regardless of whether they need to purchase one because of a narrow stairway. It is important to remember, however, that perch stairlifts do require the user to have the ability to stand for a short amount of time and that a certain amount of headroom will be required in order for the standing person to travel up and down. All Handicare stairlifts are fitted with remote controls and key switches in case of an emergency or should you need to stop the lift quickly.
Bespoke stairlifts
If standing is not possible but a stairlift for a narrow staircase is still required or is the perfect solution for you, the other option available to you is a custom-built bespoke curved stairlift. This choice would mean a special bespoke-built track being installed which would allow the stairlift to be raised slightly and kept a short distance away from the top and bottom of the staircase, providing the necessary clearance for others to walk past, yet remaining fully accessible.
Once again, there is an important additional point to note, which is that custom-built stairlifts are, by their nature, more expensive than 'off the shelf' products. This is due to the obvious logistical challenges that manufacturing and installing bespoke stairlift equipment necessitates.
For more information on how to choose a stairlift, please see the dedicated advice guide.
---
Can you buy exterior stairlifts?
Most people think of home mobility equipment as being specifically for indoor use, but there are also countless people across the UK who would benefit from the installation of exterior stairlifts, for a variety of reasons.
Fortunately, external stairlifts and outdoor straight and curved lifts have become much more commonplace in recent years, with both curved and straight stairlifts now widely available for exclusive outdoor use. It is not just gardeners who make use of them, either – many houses can also only be accessed via steps, whilst even people with particularly steep driveways could have their lives made easier with the installation of an exterior stairlift.
The British weather, of course, is famously inconsistent, so the best outdoor stairlifts are all designed to cope with whatever the elements have to throw at them. Fully waterproof (with an additional cover for added peace of mind), weather-resistant, resistant to extreme temperatures and UV stable, outside stairlifts are durable and reliable, providing the user with the help they need to make the most of their outdoor spaces. Outdoor stairlifts come with waterproof covers and installing an outdoor stairlift is similar to installing an indoor stairlift, to find out more, please get in contact.
---
Can a stairlift be shortened?
All brand new Handicare stairlifts are measured and fitted to your stairs upon consultation and during your home or garden visit. Therefore, there should never be a need to shorten a new stairlift. If you are considering purchasing a second-hand stairlift then the track and hinge rail (depending on if it is a straight or curved staircase to which the stairlift will be fitted) may need to be shortened to fit your staircase. However, to ensure ongoing safety and reliability of your stairlift, this process will be carried out by trained Handicare engineers. Stairlift installation is quick and simple meaning there shouldn't be too much disruption to your home, no matter who has supplied and installed your stairlift.
---
How wide do stairs need to be for a stairlift?
There is no maximum width for a stairlift, therefore even if your staircase is very wide, you should still have no problems fitting a straight or curved stairlift, as long as your staircase has a wall or rail along one side to which a track can be fitted. According to UK building regulations, flights of stairs should have a rail on at least one side if they are less than one metre wide and on both sides, if the staircase is wider than one metre (most UK staircases are between 80cm to one metre). There is, however, no minimum width for a staircase but it is highly unlikely that the primary staircase in a household will be too narrow to fit a stairlift, as the perch seat solution can navigate most narrow stairs.
Every person is different, so there are plenty of reasons why someone may be in need of a niche stairlift for themselves or their family member. Whether you are looking for stairlifts for narrow stairs or exterior stairlifts, there are many bespoke options to suit you.
Handicare Ltd aims to raise a minimum of £1,200,000 during 2020/2021 for Age UK via the promotion and sale of independent living products.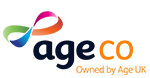 Buying these products supports Age UK's charitable work.