An update from Handicare about our COVID-19 safe working practices
Latest Covid-19 Update
Keeping everyone safe is our top priority as we continue to provide our services aimed at making everyday life easier for our customers.
As restrictions change across the UK, we're continuing to follow the official rules and guidance in England, Scotland and Wales, adjusting our ways of working when it's appropriate to do so.
Working safely in homes
Please help us to do everything we can to keep all our customers, our partners and our people safe.
Before your appointment
Let us know if anyone in your home:
has Covid-19 symptoms (high temperature, new continuous cough, loss of taste/smell) in the 10 days before we visit
is shielding or vulnerable
has been asked to self-isolate
On the day, we'll call to see if anything has changed.
During your appointment
Our surveyors and engineers will follow the latest rules and guidance from the relevant health authorities in England, Scotland and Wales:
wash or sanitise their hands before entering your home – and at regular intervals during the appointment
wear a face covering (unless they are medically exempt from doing so)
keep at least 1m away from you at all times
We will continue to work together with our trusted partners to provide and install adaptations which help as many people as possible to remain living safely and independently at home.
If you have any concerns or queries about Handicare's services during this time, please call 0800 019 8625 or email UKCustomerCare@handicare.com
Handicare
19th July 2021
Contact-free home assessments
Now you can arrange a contact-free home assessment so there's no need for our surveyor to carry out their usual face-to-face assessment!
You may be worried about inviting people into your home at the moment. We totally understand however, that you may be in urgent need of a stairlift. We want to help you with that.
We're also making sure that when our surveyors and engineers do visit customers at home they always follow the latest guidance about wearing personal protective equipment (PPE) including face coverings, rigorously follow strict hygiene protocols including handwashing, and thoroughly clean any equipment they touch.
If you have a smartphone or tablet we can arrange a video call with you so that our surveyor can carry out, with your help, an assessment of your needs and your staircase layout. They can then provide a no-obligation quote for a stairlift suited to your personal requirements.
No-one has to visit your home for you to find out how much a stairlift will cost and when one can be installed.
Handicare Ltd aims to raise a minimum of £1,200,000 during 2020/2021 for Age UK via the promotion and sale of independent living products.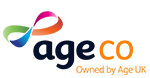 Buying these products supports Age UK's charitable work.