7 food shopping tips for older people
29th March 2019

As we get older, heading to the supermarket to do your food shopping can become more challenging, particularly if you have low mobility and difficulty getting there. But there are measures you can take to help alleviate some of the strain and ensure you make the most of your shopping trip.
Food shopping tips for older people
Use coloured stickers to prioritise use-by dates
Organise your shopping list by aisle
Don't be afraid to buy family-sized portions
Go shopping with a friend or family member
Avoid the rush
Look for local transport assistance
Get your food shop delivered
Read on to find out more about these top tips to make your food shop easier and more efficient.
Use coloured stickers to prioritise use-by dates
Do you often find yourself throwing out unopened goods because they've gone off before you've had the chance to eat them? Amy from Planning Spree has a tip to ensure that at a glance, you know which foods to prioritise and eat first.
"Once you've done your shopping, place coloured stickers on your items to help quickly identify when your products are due to expire. For example, use a red sticker for products that will go off within a couple of days or so, a yellow one for products that need eating within the week and green for longer-dated items. This helps you to avoid binning items later that have gone past their use-by date."
Organise your shopping list by aisle

Kendal At Home has a small but useful tip when doing your food shop. If you know your supermarket well, when writing your shopping list, organise each item by aisle. Not only will this make your shop quicker and more efficient, but it will also help you keep on track and stop you from being tempted by promotions or impulse buys.
Don't be afraid to buy family-sized portions
If it works out cheaper to buy a family-size portion of food, it's definitely worth purchasing says Karen from Fuelled By Latte.
"Don't be put off buying things that are big enough for a family as they will often be cheaper. Just make sure they can be frozen, split them into as many different portions as you see fit and chuck them in the freezer."
As well as getting more bang for your buck, it also means you have several meals that are ready to go when you need them, which is great for saving you multiple trips to the shops.
Go shopping with a friend or family member

If you struggle with mobility, ask a friend or family member to accompany you on your shopping trip, says Jenny from Chilling with Lucas. As well as having someone to do the heavy lifting, it's a great excuse to have a catch-up.
Lots of supermarkets are well-equipped for helping those with low mobility, says Jenny. "Many supermarkets have trolleys that can go over wheelchairs as well as mobility scooters to borrow if needed."
Avoid the rush
If you get overwhelmed with supermarket crowds, knowing when to hit the shops is key if you prefer browsing in peace and quiet. Generally, you'll find the quietest periods will be first thing in the morning or later in the day - before and after the work and school rush.
If you're planning to head to the shops over the weekend, it's recommended that you set off bright and early if you're hoping to avoid the crowds. Lots of people tend to sleep in on a Saturday or Sunday morning, so you'll want to take advantage of how quiet the shops will be.
With some supermarkets open 24-hours and others closing late at night, if you're a bit of a night owl, then you might benefit from doing your food shopping later in the evening when others are unwinding at home.
Look for local transport assistance
If your closest supermarket is quite a distance away, it may be worth looking into local transport services says Money Management International.
"If getting around is a problem, look into volunteer driver programs in your area; many churches, community centres, and non-profits offer them. They'll take you back and forth, help you get around the store, and even help with bringing shopping in the house."
See what shopping and home delivery services are available in your area on the Age UK website.
Get your food shop delivered

If you still aren't confident with food shopping, many people have ditched the traditional way of shopping and instead have opted to do their food shop online, particularly if they rely on stairlifts or want to avoid the hustle and bustle altogether.
Beaumont Health believes there are many benefits to ordering your food shop online, which includes saving you time and effort wandering the aisles, avoiding unhealthy or expensive impulse buys and allowing you to stay organised with saving previous purchases for next time.
If you're not very computer-savvy, get a friend or family member to help you the first time around. After that, most supermarket websites will remember your favourite items and previous transactions making it easier than ever for you to purchase the same food shop over again.
Food shopping in a busy supermarket can feel like a daunting task when you're older, especially if you have mobility issues, but it doesn't have to be. The above tips are just some of the ways to make the experience more relaxed and ensure you are more efficient when it comes to your food shop.
Looking to whip up some new recipes in the kitchen? Check out our healthy recipe ideas.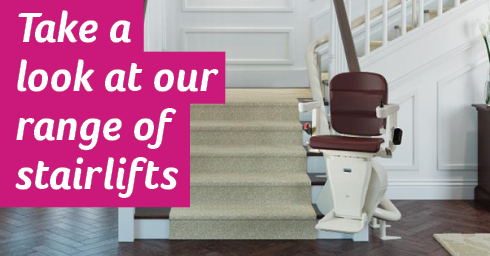 Are you interested in more tips related content from Age UK Mobility?
https://www.ageukmobility.co.uk/mobility-news/article/tips-for-maintaining-your-independence
https://www.ageukmobility.co.uk/mobility-news/article/tips-for-getting-a-great-night-s-sleep-in-hot-weather
https://www.ageukmobility.co.uk/mobility-news/article/simple-meal-time-tips-to-get-the-nutrition-you-need
https://www.ageukmobility.co.uk/mobility-news/article/top-tips-for-improving-your-balance
This news article is from Handicare UK. Articles that appear on this website are for information purposes only.