Perfect Mother's Day gifts and treats for grandma
23rd February 2020
Mother's Day is a special time of year, a time to celebrate and show affection to those important women in every family. While organising treats and gifts on this lovely day for mum is certainly a nice thing to do, this doesn't mean we should forget the other important women of the family – grandmothers. Grandmothers are mothers too after all, and just because their children don't need them as much as they once did, doesn't mean they can't be celebrated and pampered as well on Mother's Day. So, if you feel like showing some affection towards grandma this Mother's Day, either by giving your mum a present from their grandchildren or treating your own grandmother to a nice surprise, this article is full of wonderful suggestions that she'll love!
A family day out
While thoughtful gifts and treats are always a go-to gift when it comes to Mothering Sunday, there's nothing better than creating ever-lasting memories with your loved ones. As such, grandma will appreciate being treated to a day out somewhere with her family – the good news is that there are myriad accessible locations available so even if your grandmother sometimes requires the use of home stair lifts, being able to enjoy a fun-filled day won't be an issue.
So, start planning and arrange a special outing to something you know Grandma will enjoy and where she can spend quality time with her grandchildren. Read this article about the most accessible attractions in the UK to give you an idea of some great locations for those with limited mobility. Some great locations for a day out include:
Stonehenge
National Railway Museum
Hyde Park
Chester Zoo
Tower Bridge
Alton Towers
Laura from the motherhood and lifestyle blog Autumn's Mummy, recommends this type of gift as a great suggestion for Mother's Day: "My top suggestion for Mother's Day is to do something that involves spending quality time with your grandma. How about taking her out for an afternoon tea? Alternatively, if there's a museum that interests you both or if you both enjoy shopping, those would be lovely ways to spend a few hours."
Laura also spoke about why people should include grandmothers on this special day of the year: "I think it's very important that grandparents don't get left out on Mother's Day. They have a huge role in the family, so we make sure they are also celebrated. I was brought up to buy a card and gift for my grandmothers on Mother's Day, as well as my mum and am continuing to do the same with my daughter now that I'm a mum myself."
Something for the garden
Especially when the weather is bright and sunny, there is nothing more therapeutic than getting out into the garden and tending to some fresh and pretty plants and flowers. Why not treat the ladies in your life to a selection of gardening goodies to elevate their gardening skills?
The team at Boxwild, a gem for garden and bird lovers, have explained a little more about some of their products, the perfect option for nature-loving grandmas:
"Whether it's having the grandchildren after school, volunteering for a charity or driving a neighbour to the shops, helping others - that feeling of 'giving something back' - is a real pleasure for many retired people. The great thing about helping wildlife is that you don't even have to leave your own garden to do it. Not only that but just seeing birds (and if you put food out for them you will see them) has been shown to have a beneficial effect on mental health. This Mothering Sunday, show your love for Grandma with a beautiful heart-shaped bird feeder from Boxwild. It comes with a bag of seed specially blended to appeal to robins and thrushes, which can be personalised as 'Mum's' or 'Grandma's' Blend or even with a name.
Burgon and Ball, a leading garden tools and agricultural supplies company, love the idea of gifting something to be enjoyed in the outdoors this Mother's Day, they suggested the following:
"For a glamorous grandma, get her gardening in style with the Burgon and Ball RHS Gifts for Gardeners 'British Bloom' design. With a gorgeous dramatic design of dahlias and peonies, the Kneelo® garden kneeler has twin layers of memory foam around a shock-absorbing core, for superb comfort for knees. If indoor gardening is more her thing, a beautiful houseplant will always be welcome – and a stylish plant needs a stylish pot! Burgon and Ball has a pot for every plant and every home. From tiny pots for on-trend succulents to beautiful classic designs with subtle crackle glazes, you'll be able to find Grandma the perfect pot. For a nature-loving grandma, the new Sophie Conran for Burgon and Ball ceramic bird feeders will give her feathered friends a helping hand and add a touch of designer style to the garden, too."
Self-care kits for the garden
Garden Divas specialise in gardening gifts and believes that a pamper kit to use after those busy days in the garden is the ultimate gift for grandma this Mother's Day, they explain a little more about their gift baskets.
"An item which is always an excellent seller is the Gardener's Gift Basket. Not only does this contain a useful pair of gloves but also hand wash and lotion, soap, lip balm and a nail brush to get rid of any excess dirt. All the items are packaged in a seagrass hamper which could then be used in the home or out in the shed to safely store all those necessary bits and pieces such as twine, labels, seed packets etc."
Jewellery
Who doesn't love receiving stunning jewellery? If you're struggling to find grandma or even mum the perfect present for Mother's Day, then jewellery is a great option and one that can be totally personalised to the individual. Search for jewellery that expresses their personality, their interests or a hobby they love, this way they're really going to treasure the memories it brings.
"Every Grandmother loves flowers, so why not give her flowers that last beyond a week? Represent loved ones in flowers with our Sterling Silver Birth Flower Necklace." Says the team at Bloom Boutique, home to personalised jewellery for every taste: "There are 12 beautiful Birth Flower charms for each month of the year, you can add as many flower charms to the necklace chain as you like, we also have a bracelet to match! Other pieces from our collection perfect for Mother's Day include Birthstone Charm Necklaces and Bracelets, Initial and Name Necklaces and personalised Bracelets."
Edibles
Honeywell Biscuits think that offering something the whole family can share it comes to events like Mother's Day and their biscuits are the perfect option: "We set out to create a range of biscuit gift-sets that do far more than just taste nice. By creating fun and inspiring designs, we hope each recipient opens their gift and smiles - making memorable moments just a little sweeter. Our Biscuit Blooms make a beautiful gift, with the option to personalise the vase with a name, for that extra special touch."
Personalised gifting
Thank grandma for everything she has done for you with a gift totally personalised to her. There are myriad ways you can personalise a special gift, whether that is with engraving, customised wrapping or an experience tailored to their exacting tastes.
Country Charm encompasses the special meanings behind personalising your gifts on Mothering Sunday: "Each and every Grandma is as unique as the Grandchildren that love her. So here at Country Charm, we believe the Perfect Gifts For Grandma this Mother's Day add a personal touch to anything she enjoys. One of our favourites is an Oak Photo Display Cube that comes engraved with your own words. Inside, it can be filled with her favourite chocolates, sweet-scented bath bombs or scrap-book memories of time spent together.
They also recommend gifts personalised to hobbies or interests your grandparents may have: "For Green-fingered Grandmas, why not personalise gardening tools and plant pots, or gift her charming hand-painted stepping stones with 'Grandkids Spoilt Here'? Or cut your own flowers and present them in a personally engraved vase just for her. Then, of course, to carry your love with her throughout the day, how proud would she be of a personalised keyring, necklace or watch? And what Grandma wouldn't love to snuggle up at bedtime with her little loved ones and re-live treasured stories from her own childhood? A personalised copy of The Wizard of Oz, Alice in Wonderland, Treasure Island, etc that features your names throughout would be pure joy. Gifts to share, gifts crafted just for her and all wrapped up in love. What's more perfect for a perfectly unique Grandma than that?"
Best gifts to give Grandma this Mother's Day
A family day out
Something for the garden
Self-care kits for the garden
Jewellery
Edibles
Personalised gifting
Grandma still deserves a treat so make sure not to leave her out this Mother's Day. So, if you are wondering what it is that you can do to show grandma how much you and the family appreciate all she does, have a think about some of the above ideas and organise some wonderful gifts to make this Mother's Day one to remember.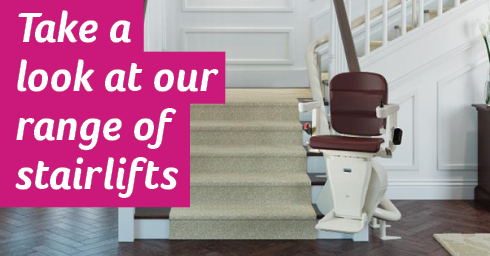 Are you interested in more Gift related content from Age Co Mobility?
https://www.ageukmobility.co.uk/mobility-news/article/traditional-gifts
https://www.ageukmobility.co.uk/mobility-news/article/low-key-valentines-ideas-that-are-still-packed-with-romance
This news article is from Handicare UK. Articles that appear on this website are for information purposes only.