Quick and easy autumn recipes
1st October 2019

Autumn is here, and as the weather turns colder and the nights start drawing in, there's nothing better than a wholesome, warming dish to enjoy after a long day. Whether that's a sumptuous apple crumble or a comforting pasta dish, autumn is the perfect time to start experimenting with different flavours and try out some new styles of cooking.
Read on to find a list of comforting sweet and savoury autumn recipes that are not only quick to make, but also suitable for those with low or limited mobility.
#1 Home-made apple crumble
Crumble lovers rejoice, as we've included a wonderfully warming apple crumble on our list that's easy to make and will satisfy your sweet tooth.
The recipe comes from lifestyle blogger Hannah Johnson at Han Plans. She told us why this recipe is a family favourite in her home: "Come September, we've nearly always got some home-grown fruit. Either pears from our own garden or we end up with apples from our friend's garden. Apple crumble is one of those lovely home comforts perfect for the colder evenings. It's super simple for an everyday bake but also can be made for Sunday dinner with the family."
Find Hannah's Home-made apple crumble recipe here
#2 Microwave pesto pasta with peppers
Image credit: Crunch & Cream
Who doesn't love digging into a big bowl of pesto pasta? This recipe is courtesy of disability and recipe blogger Hannah from Crunch & Cream and is perfect to rustle up for yourself or family and friends. The best part about this recipe? It is microwave only.
"This pasta is made (almost) from scratch in the microwave and can be customised with so many different veggies and proteins. It's perfect for days when you're worried you might forget to turn the oven off too - after all, you don't have to remember to turn off the microwave!
"If you buy the pesto and pre-minced garlic (I recommend jarred or frozen) then the only things that need chopping are the onion and peppers. This keeps preparation time to a minimum without cutting out all the flavour. Plus, it's pretty cheap overall!"
Find Hannah's Microwave pesto pasta with peppers recipe here
#3 Carrot, red pepper and chilli soup
If your idea of comfort food has a spicy kick, then this recipe is for you. This recipe was kindly shared with us by Helen, a craft blogger at Scrap Craft Swop. As well as using warming ingredients, this dish is made entirely in a slow cooker for a quick and easy dinner if you're not feeling 100%.
"I myself have limited mobility," says Helen. "I also live alone and have three (yes three!) rare diseases: Scleroderma, Muscle Disease (CREST) and a rare form of blocked liver duct disease. On top of all that, I have broken my hip, have a femur fracture and severe osteoporosis in my spine. Although I'm in a wheelchair, I cook every night for myself.
"I recommend this slow cooker carrot, red pepper and chilli soup with Italian soup pasta. You can omit the chilli, but I like a little warming spice!"
Recipe
Water (as little or as much as you'd prefer for your soup base)
1 store-bought bag of peeled and chopped carrots
3 to 4 potatoes peeled and diced
1 onion
1 celery stick
Half a red pepper
Salt, pepper and chilli flakes to taste
2 vegetable stock cubes or jellies
1 dessert spoon of tomato puree
As well as a simple ingredients list, Helen's recipe instructions are also pretty straight forward: "Cook all the ingredients in your slow cooker until tender. Blend together 30 minutes before you add your Italian pasta (or omit this if you'd prefer the dish without). You can also add ginger, fresh herbs and even cream."
#4 Giant Halloween pumpkin cookies and roasted seeds
It wouldn't be an autumn recipes list without something pumpkin-based! This recipe is courtesy of Jo from Tea and Cake for the Soul and proves that the bigger the cookie, the better.
"I was first introduced to baking with pumpkins by a friend in California," says Jo. "I would never have thought the inners could be so useful and tasty. Now that the whole Halloween culture has become more popular, you can even buy pureed pumpkin, so there's no need to use all that brute force peeling and cutting the flesh if you are unable to. Make sure you use the seeds too - they are delicious and take very little effort to scrape out once the pumpkin is cut open."
Find Jo's Giant Halloween pumpkin cookies and roasted seeds recipe here
#5 One-pot halloumi bake
Image credit: Crunch & Cream
When it's grey and wet outside, a hearty, cheese-based dish is sure to warm you up and cheer up your taste buds! Another great dish from Hannah at Crunch & Cream, this is a quick and easy meal that is sure to please even the pickiest of eaters.
"This is the perfect dump-and-bake dinner. Just mix together the sauce ingredients and top with pepper halves, bake for a while, then add halloumi slices and bake a bit more! You can serve it with pasta, rice or crusty bread for some variety and it's even reheatable! There's plenty of ways to hide extra veggies inside too if you're looking for something a little healthier, although personally the more halloumi, the better!"
Find Hannah's One-pot halloumi recipe here
#6 Mini cinnamon roll bites
Image credit: Crunch & Cream
Who doesn't love cinnamon rolls? But what about smaller, bite-sized versions that friends and family won't be able to resist? Crunch & Cream's Hannah gave us this recipe, and let's face it, it's one you'll want to use all year round.
"These are the ultimate quick cinnamon rolls: store-bought puff pastry, cinnamon and sugar and then vanilla, icing sugar and water for the glaze! They're perfect for snacking on whenever you need a little sugar boost, and since they're tiny, you don't have to feel bad about eating two! Another big bonus for anyone with hand and wrist issues is that there's no stirring thick batters or kneading any dough!"
Find Hannah's Mini cinnamon roll bites recipe here
Having freedom and independence in your home is highly important. Whether it's being able to whip up a quick meal or hold a dinner party with friends and family, your home should be a place where you don't have to feel restricted. Browse Handicare's range of stair lifts today to see how your home can be adapted to suit your needs.
Quick and easy autumn recipes:
Home-made apple crumble
Microwave pesto pasta with peppers
Carrot, red pepper and chilli soup
Giant Halloween pumpkin cookies and roasted seeds
One-pot halloumi bake
Mini cinnamon roll bites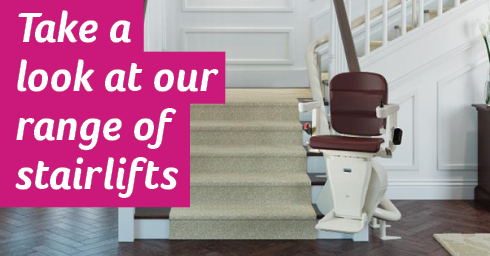 Are you interested in more Food related content from Age Co Mobility?
https://www.ageukmobility.co.uk/mobility-news/article/5-of-the-best-tasty-autumnal-bakes
https://www.ageukmobility.co.uk/mobility-news/article/7-quick-and-easy-meals-for-older-people
https://www.ageukmobility.co.uk/mobility-news/article/easy-and-healthy-recipes-for-older-people


This news article is from Handicare UK. Articles that appear on this website are for information purposes only.