Accessible guide to royal attractions in Scotland
27th October 2019
One of the great things about living in the UK is the incredible amount of top attractions to visit, especially when it comes to locations connected with the Royal Family. While London is often thought of as the premier destination for royal attractions to visit – as showcased in this accessible guide to royal attractions in London – Scotland has a plethora of fascinating locations to visit as well. From royal residences and yachts to ancient castles, it's all here. When in Scotland, these attractions should certainly be visited but how many of them are accessible to those with limited mobility? Well, this guide highlights some of Scotland's most majestic royal attractions and also details how accessible they are to those who might rely on stairlifts at home.
Palace of Holyroodhouse
Accessibility at the Place of Holyroodhouse
Largely accessible
Concessionary rates for the disabled
Carers/companions admitted free of charge
Wheelchairs available to borrow for free
Mobility scooters allowed
Some areas inaccessible to wheelchairs (such as Mary, Queen of Scot's Chambers)
Assistance dogs welcome
Accessible toilets
Disabled parking just outside the palace
Full information here.
What to expect at the attraction
The Palace of Holyroodhouse is a must-visit royal attraction and acts as Her Majesty The Queen's home in Edinburgh. Located at the end of the famous Royal Mile, the palace was also once the home to Mary, Queen of Scots. Open throughout the year, there are some wonderful highlights to enjoy, including the State Apartments, Throne Room, Palace Gardens, the Great Gallery – which was used as Bonnie Prince Charlie's audience chamber – and Holyrood Abbey.
Kirsty, of the travel blog Lost in Landmarks, recommends the palace highly as a visitor attraction: "If you're at all a fan of the British Royal family, royal history in the UK, Mary, Queen of Scots, or all three of them, then a trip to the Palace of Holyroodhouse is a must."
Touching on the tour of the palace, Kirsty says: "There's no rush to go around each room, which I found nice. I could go at my own pace and really take in all there was to see in the rooms."
The Royal Yacht Britannia
Accessibility at the Royal Yacht Britannia
Accessible toilets
Universal access
Wheelchair hire
On-site disabled parking
Free tickets for carers
Guide dogs welcome
Not suitable for Shopmobility electric wheelchairs
Ranked 4th in the most accessible attractions in the UK list.
Full information here.
What to expect at the attraction
One of the most popular attractions in the UK, the Royal Yacht Britannia was the yacht of choice for Queen Elizabeth II and the Royal Family for more than 40 years. This floating palace is berthed in Edinburgh and allows visitors to step aboard the famous ship, following in the footsteps of royalty. With five decks that include the elegant State Apartments, visitors can see where Prince William and Prince Harry spent their summers and where kings and queens dined.
Braemar Gathering
Accessibility at Braemar Gathering
Accessible toilets
Disabled parking in Aberdeen Car park
Guide dogs allowed
Shuttle bus from the main car park to Auchendryne Square
Level access to Games Centre
Level access to Princess Royal & Duke of Fife Memorial Park
Full information here.
What to expect at the attraction
Braemar Gathering in Aberdeenshire is a truly special royal attraction in Scotland where people have gathered for 900 years to acclaim their monarch as chieftain. Taking place on the first Saturday of September, Braemar Gathering is held at the Princess Royal and Duke of Fife Memorial Park, showcasing a number of entertaining events such as tug of war, pipe bands, heavy throwing events, and highland dancing. In its present form since 1832, the gathering is attended regularly by the reigning monarch (this includes Elizabeth II) and members of the Royal Family.
Speaking about her experience visiting, Susanne of the Scottish travel blog, Adventures Around Scotland, says: "this patch of greenery in the Scottish Highlands attracts a diverse international assembly, drawn together for a traditional gathering of competing, judging and spectating."
Offering tips for visitors, Susanne advises: "Although this was my first visit to the Braemar Gathering, I've been to quite a few Highland Games before and find the best thing to do on arrival is to walk around the arena and get a feel for the layout."
Balmoral Castle
Accessibility at Balmoral Castle
All facilities suitable for disabled access
Disabled parking facilities
Wheelchairs available for free
Mobility scooters available
Accessible toilets
Full information here.
What to expect at the attraction
Balmoral Castle is the official Scottish home of the Royal Family since 1852, when Prince Albert purchased it for Queen Victoria. A beautiful example of Scots Baronial architecture, stopping by for a visit when in Aberdeenshire is certainly a treat. Because the castle is Her Majesty The Queen's private residence (she is, in fact, the owner), the Ballroom is the only room open to visitors within the castle. However, the lovely grounds, gardens, and exhibitions are available, providing the opportunity to walk in the very places that Her Majesty has been.
Speaking about her visit, Kathi, from the Scotland travel blog Watch Me See, says: "We arrived almost as the castle opened at 10am, which is something I can highly recommend if you wish for photo ops without flocks of tourists standing in your way.
"The estate is massive, and you could spend all day hiking and exploring. The Castle even offers safari tours to introduce you to the local wildlife."
Summing up the joys of visiting Balmoral, Kathi muses: "No wonder, the Royal Family would still come here every summer!"
Edinburgh Castle
Accessibility at Edinburgh Castle
Majority of buildings accessible for wheelchairs
Lift to Crown Jewels
Disabled toilets
Disabled parking
Mobility vehicle to Crown Square
Step-free access to the gift shop
Access to the Honours of Scotland is via a ramp and then a lift to the first floor
The Royal Palace and apartments have no wheelchair access
Full information here.
What to expect at the attraction
While Edinburgh Castle is not a current royal residence, it is still steeped in royal history and truly one of the most remarkable historic sites in Britain. Home to the Scottish Crown Jewels and many other royal artefacts, Edinburgh Castle has been besieged many times through history, acting as a vital stronghold in the Wars of Scottish Independence during the 14th century and the Jacobite Rising of 1745. The National War Museum, Royal Palace, and the Great Hall are just some of many highlights.
Scotland's royal attractions
Palace of Holyroodhouse
The Royal Yacht Britannia
Braemar Gathering
Balmoral Castle
Edinburgh Castle
As you can see, there are some incredible royal attractions to visit in Scotland and many of them are very accessible for those with limited mobility. Make sure to visit some of the above if you have a love of the Royal Family and royal history.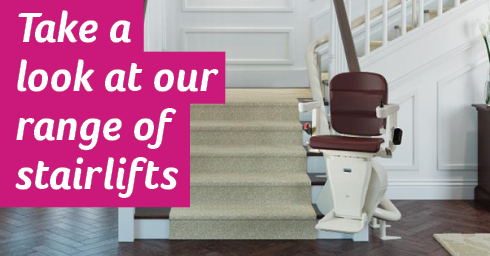 Find out more about our stairlifts in Scotland and how we can help
This news article is from Handicare UK. Articles that appear on this website are for information purposes only.