A guide to the UK's best country parks
29th July 2019
Country Parks are a wonderful way to experience the outdoors, offering fun things to see and do for all ages and levels of mobility – including those who might use an indoor stairlift at home. Country parks often fall halfway between a park and the great expanse of the countryside, providing beautiful scenery, enjoyable walks, and a number of enjoyable activities that can be enjoyed by all. This guide will highlight a handful of the very best options out there, letting you know which country parks to visit and if they are accessible.
Upton Country Park
Upton Country Park in Dorset should certainly be on the agenda. With 140 acres of parkland, shoreline, and formal estate gardens waiting to be enjoyed, there is a lot to like. There is free admission seven days a week and visitors can look forward to exploring the Grade II* Georgian Mansion, cycling, having a refreshment in the team rooms, and even Segway tours!
The team at Upton Country Park told us what they believe makes the park so special: "Upton Country Park is the only Country Park in the South that directly borders the special (and SSSI protected) shorelines of Poole Harbour – the second largest natural harbour in the world. Being winners of the Green Flag award for eight consecutive years means our park and woodlands are some of the very best in the country.
"The park hosts an ever-expanding and varied events programme throughout the year including summer music festivals, open-air cinemas and Santa's Christmas Grotto - as well as offering bespoke weddings packages and private venue hire."
Kara from the family blog Are We Nearly There Yet has fond memories of visiting Upton Country Park and she describes what it is she enjoyed most about it: "We love Upton Country Park for its walks and play trail for kids. There are spectacular views over farmland and Holes Bay towards Poole."
As Kara mentions, the park is a great spot for bringing the little ones so for those looking to entertain grandchildren, Upton Country Park will be ideal. Kara offers a top tip: "If going with kids, take their swimming costumes as there is a small splash zone, and for adults, Dorset Segway runs tours of the park which is great fun."
Councillor Dr Felicity Rice, Cabinet Member for the Environment at BCP Council told us: "Upton Country Park is truly intergenerational! From the exquisite walled gardens and play trail to the 140 acres of open grassland, woodlands, shorelines and meadows, Upton Country Park is a paradise for family fun, for dog walkers, and for cyclists to explore. Plus being accessible, every generation of the family can enjoy these outdoor experiences together."
As Dr Rice mentions, Upton Country Park also has accessible facilities for those with limited mobility, with the team telling us: "Accessibility for wheelchair & pushchair users and those with limited mobility is good as the park has a network of hard-surfaced wheel-friendly footpaths. There are several kissing gates throughout the estate; each is accessible with a RADAR key.
"Accessible toilets are located in the car park and by the Tea Rooms (RADAR key). A lift from the tea rooms takes users to 'The Gallery Upstairs' art gallery on the first floor. Access to Upton House ground floor includes entrance/exit ramps and toilet facilities, and the Education Centre is accessed via a wheelchair-friendly ramp."
Moors Valley Country Park
Image credit: Moors Valley Country Park
Dorset is truly spoiled when it comes to country parks and another one that has to be visited is Moors Valley Country Park. No matter if visitors fancy enjoying a peaceful walk along the picturesque fitness trails, engaging in intimate falconry experiences, or lazy afternoon fishing on the Lake, Moors Valley Country Park can provide. There's even hot food and snacks available at their restaurant!
Kara from Are We Nearly There Yet has also spent time at Moors Valley Country Park and has nothing but glowing words to say about the experience: "Moors Valley is a fantastic day out for all the family. For older adventurers, there is a 1.5-mile play trail and Go Ape treetop course.
"There are also plentiful bike trails, a miniature gauge railway, two adventure play parks and a large picnic area to enjoy. Best of all, with the exception of Go Ape and the railway, it's all FREE. Just pay for parking!"
Kara also recommends getting kids interested in nature with "the nature trail or the Julia Donaldson Zog themed trail."
Regarding Moors Valley's accessibility, they have worked hard to make the park accessible for all visitors, with wide access to trails, buildings and events. Assistance dogs are welcome and accessible toilets are available. Full details can be found here.
Rufford Abbey Country Park
For a true slice of history during a day out, Rufford Abbey Country Park in Nottinghamshire is an excellent choice. Located on the grounds of a 12th-century Cistercian monastery, there is beauty everywhere a visitor looks. From delightful walks in the woodlands to boating, archery, and an ice cream parlour, there is something for everyone.
Speaking about what they believe makes their country park such an attractive proposition, the team say: "Rufford Abbey Country Park is situated on the edge of Sherwood forest and offers visitors plenty to explore. From our historic ruins, native woodlands, beautiful lake and landscaped gardens, plus a variety of places to relax, eat and drink, visitors could easily spend an entire day at Rufford.
"If you like exploring nature or enjoy taking part in activities there is something to enjoy at Rufford. You will be welcomed by our friendly staff at our visitors' information point where you will be able to pick up your guide to the park. This will offer you a number of options for walks or you could simply explore on your own after enjoying a cream team at one of our catering outlets. We have a gift shop which is located in the Stables Courtyard, where you will be able to find unique gifts from jewellery and ceramics through to local produce. We also offer a seasonal garden shop selling plans and gifts for the season."
Rufford Abbey is also accessible, with mobility scooter hire and wheelchair loans available. Apart from the ruins, the site is flat and easy to get around and all public buildings can be accessed by mobility scooter. Full information can be found via there accessibility statement.
Lullingstone Country Park
Another country park that has to be highlighted is Kent's Lullingstone Country Park. This former deer park is situated on a large 460-acre estate and is home to an internationally renowned collection of ancient trees. Additionally, visitors can look forward to beautiful wildflower displays, picturesque walks, a kids' play area, and a much-loved café that serves up delicious home-made food and fresh coffee.
Kate from the family travel and adventure blog The Smaller Explorer, knows full well the joys of Lullingstone Country Park, describing what she enjoyed most about her visit: "I enjoyed how family-friendly and relaxed it was. Finding an outdoor café next to a playground is the holy grail for parents, and Lullingstone provides this. It's also got very pretty walks of varying difficulty through the Kent countryside. The family walk takes one to two hours, with plenty of picnic spots and shady benches to rest on as well as a zip wire and tiny playground en-route. Another good route is along the river to Lullingstone Castle and Roman Villa, two more fantastic places for families to visit. Both routes are suitable for pushchairs and wheelchairs on sunny days."
The park has five allocated disabled parking spaces and an accessible toilet. The café is on the ground floor and accessible through double doors, and main access around the park is good during the spring to autumn months. All in all, Lullingtsone is an ideal spot to bring the grandkids for a fun and pleasant day out.
Lepe Country Park
One of the finest parks in the country is certainly Lepe Country Park in the New Forest. Boasting stunning views of the Isle of Wight and the Solent, Lepe Country Park is without question a location of great natural beauty. With a mile-long stretch of beach and cliffs, there are some delightful walks to be had along the front or via the five-mile circular walk which includes a slice of WWII history and wildflower meadows.
Hampshire County Council's Executive Member for Recreation and Heritage, Councillor Seán Woodward, says the following about what makes this particular park stand out: "Lepe Country Park has it all – spectacular coastal scenery, fascinating wartime history and newly-renovated facilities, including accessible boardwalks, a Changing Place facility, convenient parking and of course, our stunning new restaurant, The Lookout.
"The Lookout has won awards for its iconic architecture and offers beautiful panoramic views across the Solent, and is very popular with visitors, for everything from coffee and ice-cream to hot meals.
"During World War II, hundreds of men, vehicles and supplies were based at Lepe. It was also the site where six phoenix caissons were constructed, that would go on to form the 'mulberry harbour'… which ultimately contributed to a successful Allied advance into France. You can see the physical remnants of this historic piece of engineering, with a short walk along the beach."
At Lepe Country Park there are accessible toilets, accessible pathway and platforms by the pond, an all-terrain wheelchair, and the beach is also accessible via ramps.
Beecraigs Country Park
Beecraigs Country Park in West Lothian, Scotland is yet another top location and should be part of your to-do list when in the area. Nestled in the hills near Linlithgow, there are 370 hectares of the park to enjoy. Featuring a plethora of explorable woodland, whether by foot, bike, or even horse, Beecraigs won't disappoint.
Visit Scotland gives the park 4 stars and describes some of what is on offer for visitors, including a "wide range of recreational and wildlife viewing opportunities:
Animal Attraction: Red Deer herd, Highland cattle, Belted Galloways and Hebridean and North Ronaldsay Sheep
Caravan, camping and little lodges
Park activities like walking, cycling, fly-fishing and horse riding
Beecraigs Visitor centre
Ranger service"
As far as accessibility goes, there is accessible parking and a drop-off point, accessible toilets, ramp to the main entrance, and partial wheelchair access. Their full access statement can be read here.
Country parks to visit in the UK
Upton Country Park
Moors Valley Country Park
Rufford Abbey Country Park
Lullingstone Country Park
Lepe Country Park
Beecraigs Country Park
These are just some of the many wonderful country parks that the UK has to offer and as you can see, there is plenty to be excited by! So, if you are near to any of the above, make sure to head on down and see what all the fuss is about for yourself.
While you're here, take a look at our guide to how stairlifts work if you or someone in your life is thinking about improving accessibility at home.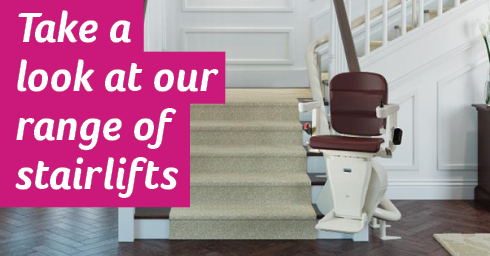 This news article is from Handicare UK. Articles that appear on this website are for information purposes only.