Walk-in Baths and Showers FAQs
Walk-in Bath and Shower Prices
About our Walk-in Baths and Showers
Installing a Walk-in Bath or Shower
Walk-in Bath and Shower Removal
Walk-in Bath and Shower Aftercare
Walk-in Bath and Shower Safety
If you still want any further information on walk-in baths and showers, or any of our other products, feel free to get in touch with our team who are able to answer all of your questions.
Handicare Ltd aims to raise a minimum of £1,200,000 during 2020/2021 for Age UK via the promotion and sale of independent living products.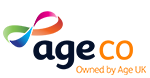 Buying these products supports Age UK's charitable work.