Walk-in Baths and Showers FAQs
Walk-in Bath and Shower Prices
About our Walk-in Baths and Showers
Installing a Walk-in Bath or Shower
Walk-in Bath and Shower Removal
Walk-in Bath and Shower Aftercare
Walk-in Bath and Shower Safety
If you still want any further information on walk-in baths and showers, or any of our other products, feel free to get in touch with our team who are able to answer all of your questions.
Call 7 days a week for free advice
0800 910 0240
Handicare Ltd aims to raise a minimum of £1,200,000 during 2018/2019 for Age UK via the promotion and sale of independent living products.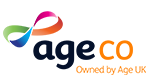 Buying these products supports Age UK's charitable work.