How are stairlifts removed?
Often customers are concerned that once their need for a stairlift has passed, there will be difficulties with the removal of a straight or curved stairlift and what their stairs will look like after. Just as installation is a smooth service, with professional help, the removal can be just as stress-free.
Whether the customer is looking to upgrade their straight stairlift to a newer model or remove the equipment altogether, this should not be done without the aid of a professional as it can damage both the property and the equipment.
---
What will my stairs look like after my stairlift is removed?
If it is an indoor stairlift that was installed on carpeted or wooden stairs, there may be a few small holes left in the stair tread where the brackets were drilled. If there was carpet, it is possible that an indentation may also be left. This can often be rectified by steam cleaning.
If it is an outdoor stairlift being removed that was attached to a stone or tile surface, there will be more visible marks left. These can be filled in afterwards.
---
How long does it take to remove a stairlift?
Stairlift removal should only be done by professionals to ensure your property is not damaged. The removal should only take a couple of hours, at a pre-arranged time, with a reputable service provider like Handicare. If you are looking for alternative options for the removal of your stairlift such as scrapping it or donating a stairlift to charity, please see our dedicated guide.
---
Who will remove my stairlift?
If you are looking to have a stairlift removed in order to upgrade to a newer model, Handicare will arrange to remove the old stairlift and recycle it. This can all be done during your home visit.
Please note that Handicare does not offer a buyback service on stairlifts due to the bespoke, made-to-measure nature of the good, however, they will remove your old stairlift free of charge if you are purchasing a new Handicare stairlift. For information regarding scrapping or recycling an old stairlift, please see the dedicated guide.
For more advice please contact Handicare on 0800 9100 248 or make an enquiry here.
People are often concerned that once their need has passed, there will be trouble with the stairlift removal. However, the question of how to remove a stairlift can be easily solved with the help of professionals.
Call 7 days a week for free advice
0800 910 0240
Handicare Ltd aims to raise a minimum of £1,200,000 during 2018/2019 for Age UK via the promotion and sale of independent living products.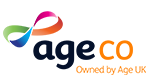 Buying these products supports Age UK's charitable work.