How are stairlifts installed?
There are so many questions that people have surrounding the purchase of a stairlift and as the equipment can represent a financial investment, it is only fair that people have all the answers before they make the commitment.
A stairlift is also going to become part of someone's home offering them independent living, so there can often be concerns about fitting the stairlift and the possibility of it damaging your home. Here, some of these questions are addressed in the following guides.
---
How is a stairlift attached to the stairs?
When people consider fitting a stair lift to make their home more accessible, they are often concerned for the structural integrity of their stairs and if this addition will compromise it. During stair lift installations, a track is attached on brackets that supports the rail. This keeps the rail elevated from the stairs.
The brackets are attached to the treads of the stairs with between 2 and 5 screws (per bracket). This means there will be no damage to the bannister or walls surrounding the staircase or at the top or the bottom of the stairs. The stairlifts are always installed at a reasonable distance from the wall or bannister to prevent any scuffing or scraping.
People should always seek a professional or reputable stairlift company like Handicare to install their stairlift. It is not advised that people take this upon themselves.
---
Will a stairlift damage my carpet?
As the brackets hold the track above the floor, it should not damage a carpet. The support screws also go through the carpet, so there is no need for the carpet to be lifted and refitted.
The support screws have a small diameter so should not leave large, visible holes, though there may be some indentation from the weight, or the carpet beneath the supports may be a different colour if it has faded elsewhere.
Please note that if a carpet is not in good condition, stray threads and pile may be an obstruction or hazard to the track.
---
Will a stairlift damage my stairs?
With very few screws attaching the stairlift to the stairs, as long as it has been installed by experts like Handicare, there should be no impact on the structural integrity of your stairs, this goes for all types of stairlifts. With indoor stairlifts, where the brackets have been attached to carpet or wooden tread, there will be a few very small holes that will need minimal attention.
Can a stairlift be installed on any stairs?
There are lots of different stairlifts available on the market - some are designed to fit unusually shaped stairs, such as a curved stairlift, while others are aimed at more traditional staircases, like a straight stairlift. Therefore, the question of 'can stairlifts be fitted to any stairs' is a common one that is asked when planning to install any stairlift models.
For people who are unsure that a straight or curved stairlift will fit their stairs, an advisor would be more than happy to arrange a home visit and advise on the appropriate model for your stairs.
---
How long does it take to install a stairlift?
When a professional installs a stairlift of your choice, it is a relatively quick procedure that should only take around four hours. This would include teaching the user how to properly use, clean and maintain the equipment.
For more advice please call 0800 9100 248 or make an enquiry here.
---
People often have questions surrounding the purchase of stairlifts, with one of the most common being hooutdw to install a stairlift. Here, these questions are addressed.
---
Donations to Age UK's charitable work from Age Co sales are expected to reach £3 million each year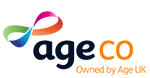 Buying these products supports Age UK's charitable work.