Stairlift Tips and Advice
Whether you wish to find out how a stairlift is installed or how an outdoor stairlift works, you will find a wealth of information available here.
Call 7 days a week for free advice
0800 910 0240
Handicare Ltd aims to raise a minimum of £1,200,000 during 2018/2019 for Age UK via the promotion and sale of independent living products.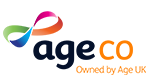 Buying these products supports Age UK's charitable work.