Can you buy narrow stairlifts?
Even though it is a good idea to do as much research as you can before making an investment decision on any item as important as a new stairlift, it goes without saying that there is no 'one size fits all' solution to suit the needs of every person with mobility issues.
Each home in the UK is as unique as its owner, with narrow doorways, irregularly-shaped hallways and small rooms sometimes causing issues with getting bulky items of furniture in and out of the building. However, you will be pleased to learn that, whatever the layout of your house, there should be a straight or curved stairlift, and indoor stairlifts to fit it.
Below, you will find all you need to know about the availability of stair lifts for narrow staircases
---
---
Can a stairlift be shortened?
All brand new Handicare stairlifts are measured and fitted to your stairs upon consultation and during your home or garden visit. Therefore, there should never be a need to shorten a new stairlift. If you are considering purchasing a second-hand stairlift then the track and hinge rail (depending on if it is a straight or curved staircase to which the stairlift will be fitted) may need to be shortened to fit your staircase. However, to ensure ongoing safety and reliability of your stairlift, this process will be carried out by trained Handicare engineers. Stairlift installation is quick and simple meaning there shouldn't be too much disruption to your home, no matter who has supplied and installed your stairlift.
---
How wide do stairs need to be for a stairlift?
There is no maximum width for a stairlift, therefore even if your staircase is very wide, you should still have no problems fitting a straight or curved stairlift, as long as your staircase has a wall or rail along one side to which a track can be fitted. According to UK building regulations, flights of stairs should have a rail on at least one side if they are less than one metre wide and on both sides, if the staircase is wider than one metre (most UK staircases are between 80cm to one metre). There is, however, no minimum width for a staircase but it is highly unlikely that the primary staircase in a household will be too narrow to fit a stairlift, as the perch seat solution can navigate most narrow stairs.
Every person is different, so there are plenty of reasons why someone may be in need of a niche stairlift for themselves or their family member. If you are looking for stairlifts for narrow stairs, there are many bespoke options to suit you.
Donations to Age UK's charitable work from Age Co sales are expected to reach £3 million each year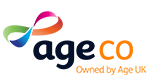 Buying these products supports Age UK's charitable work.