Stairlift rental is the concept of paying a monthly fee to a stairlift company to have use of a hired stairlift in your home. If you are having great difficulty getting up or down the stairs or are unable to use them, then having a stairlift fitted through a rental scheme is a practical solution to help you regain independence at home.
A temporary stairlift rental is an ideal option if you are recovering from an illness or procedure which incapacitates you from ascending or descending stairs in the short term. Having a temporary stairlift for hire installed is also beneficial for relatives or guests who come to stay with you who cannot use stairs.
Because of the monthly cost of renting a stairlift, the option to rent a stairlift only makes financial sense and is a cost-effective decision if it is for a short period of time rather than long-term.
---
Which stairlifts can I rent?
We have two stairlift models available to rent – one for straight staircases and one for curved or spiral stairs.
The 1100 straight stairlift is available to rent and offers the slimmest track on the market. Compact and fitted with a continuous charge functionality, the 1100 is complete with patented technology, which means there is no grease or oil on the rail, making it easy to keep clean.
You can also rent the 2000 curved stairlift, a modern and versatile solution for curved and spiral staircases. Flexible and user-friendly, the stairlift can travel around 90- and 180-degree bends and comes with a manual swivel seat as standard.
How soon after order will my stairlift be installed?
For straight stairlifts it takes 2-5 days, and for curved stairlifts, it will be up to 10 working days on average from your order.
How long might I rent a stairlift for?
Our rental scheme is for short-term use only and is not designed for anyone needing a lift for longer than 12-18 months. Continued rental after this time would mean you may eventually pay more than it would have cost to purchase the stairlift outright.
After 6 months, you can end your rental agreement at any time. We can remove your stairlift before this if you wish, however, we cannot offer any refund for the first 6-month contract period.
---
What is the cost of renting a stairlift?
In order to rent a stairlift, you'll need to make an upfront payment which covers standard installation and the first six months' rental. After six months, an ongoing monthly rental charge will apply.
For the 1100 Straight Stairlift, there is an upfront charge of £1,300 (excluding VAT) and ongoing monthly rental payments of £80 per month (excluding VAT), after the first six months. For the 2000 Curved Stairlift, there is an upfront charge of £3,000 (excluding VAT) and ongoing monthly rental payments of £150 per month (excluding VAT), after the first six months.
These rental costs are for a basic stairlift. Any optional extras chosen will increase the cost of the upfront charge.
READ ALSO: How much do stairlifts cost?
Do I need to pay VAT on my order?
94% of customers do not pay VAT on their orders. If you, or the person you are buying the stairlift for, have a condition that requires regular medication or are registered disabled then you may be eligible for VAT exemption. Speak to one of our team to find out more.
Who owns the stairlift?
The stairlift will remain the property of Handicare so all regular servicing and maintenance are included.
To find out more, or if you have any questions, call one of the Handicare team for free on 0800 117 0515. *Calls may be recorded for monitoring and quality purposes.
Is renting a stairlift the right option for you? Stairlift rental is a sensible option for those in need of a temporary stairlift but may not be a feasible long-term option.
Donations to Age UK's charitable work from Age Co sales are expected to reach £3 million each year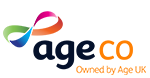 Buying these products supports Age UK's charitable work.