Stairlift rental is the concept of paying a monthly fee to a stairlift company to have use of a hired stairlift in your home. If you are having great difficulty getting up or down the stairs or are unable to use them, then having a stairlift fitted through a rental scheme is a practical solution to help you regain independence at home.
A temporary stairlift rental is an ideal option if you are recovering from an illness or procedure which incapacitates you from ascending or descending stairs in the short term. Having a temporary stairlift for hire installed is also beneficial for relatives or guests who come to stay with you who cannot use stairs.
Because of the monthly cost of renting a stairlift, the option to rent a stairlift only makes financial sense and a cost-effective decision if it is for a short period of time.
---
How do I rent a stairlift?
Age UK Mobility does not offer stairlift rental. However, many companies do offer temporary stairlift rental in the UK. Although there could be a number of reasons why one may wish to hire a stairlift, you may not be able to invest in the full cost of a stairlift in one go. Therefore, using a short-term rental service may be a feasible option.
However, it is worth noting that there are many stairlift finance options available and also the possibility of getting a free stairlift from Handicare through a government grant. These finance options will negate the need to rent a stairlift.
It is also worth bearing in mind that once you begin renting a stairlift, its period of use and, therefore, your period of paying monthly rental fees may extend longer than the actual upfront cost of a new stairlift. This means you will end up paying far more for a rented stairlift than you would for a new or reconditioned stairlift or reconditioned model through Handicare.
Whilst it is possible to rent curved stairlifts, most stairlift rental companies will only allow you to rent straight stairlifts. This is because straight stairlifts can be fitted onto any standard straight staircase and are also relatively easy to uninstall after the rental period is over. Curved stairlifts are usually custom-built to a staircase, this means that hardly any stairlift companies will offer them to rent and will charge more to rent them.
---
What is the cost of renting a stairlift?
The cost of renting a stairlift will likely end up being much more expensive than the cost of purchasing a new or reconditioned stairlift outright. Therefore, Handicare would only recommend considering stairlift rental if the lift is needed for a limited amount of time only.
How much does it cost to hire a temporary stairlift?
The cost of stairlift hire will depend on which company you decide to use. However, the cost of renting a straight stairlift should normally not exceed £10 a week.
The overall cost of renting a curved stairlift is likely to be significantly higher than the cost of a temporary straight stairlift. This is because curved stair lifts are custom-built to the staircase they are fitted to, meaning that it's unlikely a curved stairlift can be reused after the rental period is over.
Therefore, the monthly rental cost of a curved stairlift will be very high, and it makes more financial sense buying a stairlift outright. The only way that it would be more sensible to rent a curved stairlift rather than buying one would be if the lift was only needed for a very short period of time. Even so, in getting a rented stairlift installed, there is almost always an upfront cost which can be over £1,000 in some cases.
Many companies that offer temporary stairlift hire will also require you to agree to a set rental term, meaning even if your need for a stairlift is temporary, you can end up paying for more time than you need, and end up wasting money.
When you book a home visit, your Age UK Mobility specialist will be able to answer any questions you have about the installation process and the set monthly cost of your stairlift.
Is renting a stairlift the right option for you? Stairlift rental is a sensible option for those in need of a temporary stairlift but may not be a feasible long-term option.
Handicare Ltd aims to raise a minimum of £1,200,000 during 2020/2021 for Age UK via the promotion and sale of independent living products.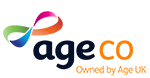 Buying these products supports Age UK's charitable work.