Removing a stairlift that is unwanted
Once a stairlift has been installed in a property for a long period of time, it will eventually need to be either removed or replaced. It can be difficult deciding what to do with a stairlift that is no longer required or no longer serves its purpose and how you go about removing unwanted stairlifts.
Hopefully, the removal of a straight or curved stairlift is something that will be a consideration after many years of satisfied use, in order to upgrade to a newer model. However, events such as bereavement, relocation, or replacement due to malfunction will mean that your stairlift will need to be removed. For common questions associated with how stairlifts are removed, please see the dedicated guide.
There are a number of options that stairlift owners can choose from for the removal of a stairlift. Stairlifts for straight stairs are far easier to remove than curved stairlifts, due to the bespoke nature of the latter's construction; and it is worth bearing in mind that some removal service companies may charge a small fee. Handicare however, will remove a stairlift free of charge if you are replacing your current stair lift for a Handicare model or upgrading your current Handicare stairlift. Please note that Handicare does not offer a buyback service on stairlifts due to the bespoke, made-to-measure nature of the goods.
---
Scrapping a Stairlift
Reputable suppliers will always dispose of an unwanted stairlift in a professional and environmentally safe way rather than scrapping the stairlift. If a non-professional body (such as a friend or someone interested in buying the lift) has offered to remove the stairlift, you are obliged by law to ensure that it is not disposed of by illegal means, as you could be liable to fly-tipping charges. Fly tipping is a criminal offence which is committed if household waste is deposited, or allowed to be deposited, in a way or place not allowed by a waste management licence. Unlawful removal and disposal is not recommended.
Due to the complicated nature of stairlifts, particularly curved stairlifts, which have a large number of different materials used in their production, there is very little scrap value for the metal within the stairlift frame; and scrapping a stairlift is not a recommended course of action should you want your stairlift removed.
---
Giving a Stairlift to Charity
Due to the bespoke nature of many stairlifts, it's not a simple process to donate your stairlift to charity. If you have a straight stairlift, where the rail and all working parts have been kept in good care (and your stairlift has been serviced regularly) then many reputable companies will buy your used stairlift from you in order to sell on to a new owner. Many companies use the funds from their second-hand stairlifts in order to raise money for local and national charities, meaning you are making a cost-effective decision that will benefit others.
How your stairlift purchase gives back to Age UK
When you buy a product through Age Co Mobility, you are helping to raise money for Age UK, a vital charity dedicated to inspiring, supporting, and enabling older people in the UK through numerous help, outreach, and activity programs.
Age Co Stairlifts are provided by Handicare Accessibility Limited (Handicare), working in association with Age Co. Age Co is a trading subsidiary of Age Co which donates its net profits to Age UK. Handicare will raise a minimum of £1,200,000 during 2017/18 for Age UK through the promotion and sale of independent living products.
---
Recycling a Stairlift
Recycling a stairlift is an environmentally conscious way of disposing of a stairlift that is no longer needed. In most cases, companies that offer to remove your star lift and then ethically dispose of it will charge a nominal fee. This is because the removal of the stairlift requires man-hours but also because recycling centres will also most likely charge a fee for its safe disposal. Whilst this may seem frustrating to have to pay a fee, it is a much safer option than to have your stairlift removed by a private party who may dispose of it by illegal means, leaving you potentially open to criminal charges of fly-tipping.
Many reputable suppliers, including Handicare, will ensure that once removed, your stairlift is safely handled by the nearest local recycling plant. Due to the many complicated parts that make up a stairlift (the batteries, cables, tracks, seat, plastic parts, and metal parts), they should always only be disposed of by professionals at a legal recycling plant.
For more advice please contact Handicare on 0800 9100 248 or make an enquiry here.
---
Events such as bereavement, relocation, or replacement will mean that eventually, your stairlift will need to be removed. Here are the available options.
Donations to Age UK's charitable work from Age Co sales are expected to reach £3 million each year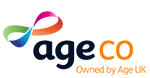 Buying these products supports Age UK's charitable work.