For those looking for a homelift, or considering other home-aids like stairlifts, making that initial purchase can be a daunting prospect. The chances are someone you know could benefit from help at home to increase their independence. Whether that's you, or a loved one, it's important to make sure you're getting the right product for your needs and your budget.
We understand that this step can be hard, and you're likely to have lots of questions about the process, about homelifts and how they work and how they can help your life. Enter our homelift advice hub. Here we offer a range of articles tailored to answering the most frequently asked questions regarding homelifts in order to help you make an informed decision and give you the peace of mind you want.
If you have a question that isn't answered here or want advice on something specific to your needs, our team are always on hand to help. You can request an advice pack, call the Age Co team at Handicare on 0800 117 0139, book a free, no-obligation home visit. There is also a wealth of information and useful articles on our blog.
How much space is required for a lift in my home?
This guide shares how much space is required to have a homelift installed so that those who are curious can start to imagine where a lift might fit in their home.
Considering buying a homelift? Discover our homelift advice hub, answering FAQs and offering all the information you need to make a decision.
Donations to Age UK's charitable work from Age Co sales are expected to reach £3 million each year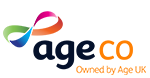 Buying these products supports Age UK's charitable work.